Light weight mullite insulation bricks: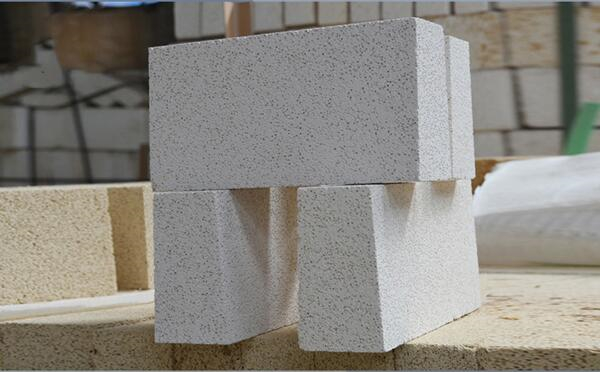 Mullite insulation bricks generally refer to insulation refractory bricks with a density of 0.6-1.1g / cm3. Due to the characteristics of low density, high porosity, less thermal conductivity, good thermal insulation, and certain compressive strength, light-weight mullite insulating bricks have been widely used in heat treatment equipment. The use of mullite thermal insulation bricks with low thermal conductivity and small heat capacity as the structural material of the furnace body can largely save fuel consumption; At the same time, because the kiln can quickly heat up and cool, it can improve the production efficiency of the equipment; it can also reduce the weight of the furnace body and simplify the kiln Structure, improve product quality, reduce ambient temperature, improve working conditions. But mullite heat insulation brick also has some precautions. Insulation fire bricks have large porosity and loose structure, and can not be used to directly contact the slag and liquid metal; the mechanical strength is low and cannot be used for load-bearing structures;The wear resistance is also poor, so it is not suitable for the parts that contact with the furnace material and wear seriously. Since its good thermal insulation peformance, the mullite insulation refractory brick is an ideal choice for the insulation parts of different industrial furnaces.
As a professinal mullite thermal insulation bricks manufacturer for 30 years, we have exported different mullite insulation refactory materials to more than 35 countries.Please kindly read the following more information and make Inquiry.


Scope of application:
l Light weight mullite refractory bricks are mainly used for heat insulation of glass furnaces.
Advantage:
l Low heat capacity, low thermal conductivity
l High purity, less impurities
l High temperature resistance,direct contact with flame
l High strength, excellent high temperature volume stability
l Has excellent resistance to acid and alkaline slag
l Accurate size, arbitrary cutting
Technical Data:
Item

JM-23

JM -26

JM -28

JM -30

Classification temperature (oC)

1260

1430

1540

1650

Bulk density (g/cm3)

0.6

0.8

0.9

1.0

Crushing strength (Mpa)

1.2

1.6

2.1

2.5

Modulus of rupture (Mpa)

0.9

1.4

1.6

2.1

Permanent linear change (CT-30oCX24h)%

0.5

0.4

0.5

0.9

Reversible thermal expansion at 1100

0.5

0.7

0.8

0.9

Thermal conductivity (W/m.k)

400oC

0.14

0.27

0.32

0.41

600oC

0.16

0.29

0.34

0.43

800oC

0.18

0.31

0.36

0.44

1000oC

0.2

0.33

0.38

0.45

1200oC

-

0.35

0.41

0.47

Chemical Analysis (%)

Al2O3

37

58

67

73

Fe2O3

0.7

0.7

0.6

0.5